Frequently Asked Questions (FAQ)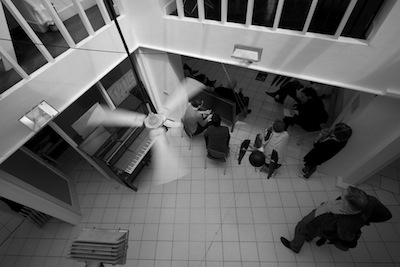 We have put together responses to the set of FAQ that we've found people have when first they encounter c4cc and start to ask questions; e-mail info[at]creativecollaboration.org.uk for further information and clarification.
What is the Centre for Creative Collaboration?
The Centre for Creative Collaboration is a new initiative in collaboration for London. It's a pilot project and a prototype for a bigger idea.
We are bringing together leading and innovative researchers from London's universities and colleges, creative industry practitioners and freelancers, SMEs and students. We are creating an environment, based on the principles of open innovation, where new collaborative projects can be conceived, developed and delivered. We're interested in getting these ideas and concepts into use quickly and efficiently, and where possible and appropriate, aiding the commercial development and wealth creation that these new projects can produce. The project is all about Knowledge Exchange – not knowledge transfer but a more engaged concept that accepts that the flow of knowledge is and should be multilateral
The project is led by Professor Geoffrey Crossick, Vice-Chancellor of the University of London, in collaboration with the Central School of Speech and Drama, Goldsmiths and Royal Holloway (members of the Federal University of London) and Complexity Partners LLP. The project also has the support of the Higher Education Funding Council for England ("HEFCE") and the London Development Agency.
The project direction is itself a collaborative effort and innovative; a multi-University partnership working with an SME to steer a project designed to be valuable to creative practitioners in London and beyond.
Why are you using "c4cc" to describe the Centre?
We're using social media techniques and methods both to document and disseminate the results of the work of the Centre - you can find links to some of them on our Tools page. On Twitter, 'hashtags' are used to identify information to make it more easily searchable. Hence, on Twitter the Centre is identified as #c4cc. Given that Twitter has a 140 character limit on messages, short hashtags are best practice. The obvious hashtag ('ccc') is used extensively around the world by many organisations so we chose #c4cc. We have also identified the hashtag to tracking tools such as WhatTheHashtag.
Why are you doing this project?
The Centre is the direct result of a comprehensive consultation process in 2008 that canvassed the views and needs of the capital's Higher Education Institutions (HEIs), small businesses and incubators and some industry partners.
The main conclusions of the consultation were that:
HEIs and industry partners thought that a "neutral" collaboration space in the Kings Cross area was an attractive idea and one they would support if the idea became concrete and tangible;

The creative disciplines saw most value in the idea; practice is being heavily impacted by changes in technology and new forms of collaboration in business models and working methods that are seen as future sources of competitiveness. -
What's the 'Big Idea'?
"We need to do for the Creative Arts what the system has done for Science" said Sir Graeme Davies, then Vice Chancellor of the University of London, at the Centre on 5th February 2010 to a group of about 80 people from London's creative community including members of the Tuttle club, academics and freelancers and a sprinkling of students.
Graeme argued that "Scientists forget the energy derived from the Creative Arts and how much resource (in every sense) comes into the community [from them]". He also spoke of the multiple interfaces between science and engineering and industry and society that have been developed over decades. Consider the huge amounts of public investment in science during the latter half of the 20th Century. He talked about the Centre as an 'experiment' where we are exploring how to build "a genuine interface with the Creative sector - and make University resource available to a broader community; this is the place and these are the people", he said. It's also about making it work in a very lively way. You can see the video of him speaking [here],
We were also challenged by one of the lead partners of the Centre; Geoff Crossick, then Warden of Goldsmiths (who became Vice Chancellor of the University of London on the retirement of Sir Graeme) to "make it tangible" which led us to the idea of the experiment that is the Centre. Geoff Crossick's 2006 Lecture to the RSA "Knowledge Transfer without Widgets" influenced our thinking greatly and we had regular meetings and discussions with him as we prepared to implement this project.
Geoff Crossick's words provide valuable insight to the motivating factors behind the development of c4cc:
"Rather than being formed and then transmitted to others, knowledge in the creative economy is constituted within the interaction itself and it is from that engagement that value itself is derived. This knowledge is, by its very nature, networked, coming from the encounter of people with different skills, imaginations and often different goals. The term 'creative conversations' is often used to describe these processes, and there are interesting implications to this metaphor. One is the paradox of intensely global phenomena that thrive off very local interactions. Another is that in the most digitally-driven of fields exciting breakthroughs generally come when people shape ideas face-to- face. And the best conversations are sustained over time, in an exchange of difference. Encounters of different art forms, technologies, cultures, disciplines produce new knowledge in the creative sectors and it produces them when people are together. That is why Goldsmiths is leading a University of London plan for a creativity centre in King's Cross where researchers and business can engage in a deliberately low-key space."
You can read a transcript of Geoff Crossick's paper here courtesy of LCACE
How is the Centre managed and governed?
We have representatives of three of the University partners on the Operational Management Board ('OMB') - Jessica Bowles of the Central School of Speech and Drama, Geoff Ward of Royal Holloway and Mike Waller (alternate: Julie Taylor) of Goldsmiths; and also from Complexity Partners; Neil Gregory, Thias Martin and Brian Condon. 
The governance structure is very interesting (if you like that kind of thing); effectively a collaborative structure between the University of London, Partner Colleges and Complexity Partners.  On the OMB, Complexity Partners speaks for the University of London and reports each month to the Vice-Chancellor. The way the Centre operates is that Complexity Partners actively manages day-to-day operations supporting and facilitating users of c4cc; keeping the other Board Members in touch with what's happening.  Each month, we have a formal review of where we are.  We also have a Steering Meeting which the Vice-Chancellor chairs and to which others are often invited.
Effectively there are two layers of oversight - Operational (and academic) oversight from Mike Waller, Jessica Bowles and Geoff Ward; and higher level Governance and Strategy oversight from the Vice-Chancellor and his senior team such as the Finance Director and the Director of Administration.  The Vice-Chancellor in his turn, reports to the University of London's Board of Trustees each term.
We hope, for those of you who have so far been visiting and using the centre, that very little of this is visible in day-to-day interactions.  There's a very good reason for that.  We hope that the operations of the Centre will be very flexible and responsive to the needs of collaborative projects that use the space.  We've worked with early users of the space and designed a very lightweight process. We have a set of decisions we can make very quickly; we're all clear about what the objectives are and there's a high level of trust, which has taken a long time to achieve, built into the design.  This is, we think, innovative; and part of the job we have is to study and document the process. 
Where does the funding come from?
The majority of the funding is from the University of London with other contributions (both financial and 'in kind') from Goldsmiths, Royal Holloway, the Central School of Speech and Drama and Complexity Partners LLP. HEFCE and the London Development Agency also support the work of c4cc.
How will you deal with ... [insert some really challenging or difficult issue]?
We're sure we can work it out.  What do you think?